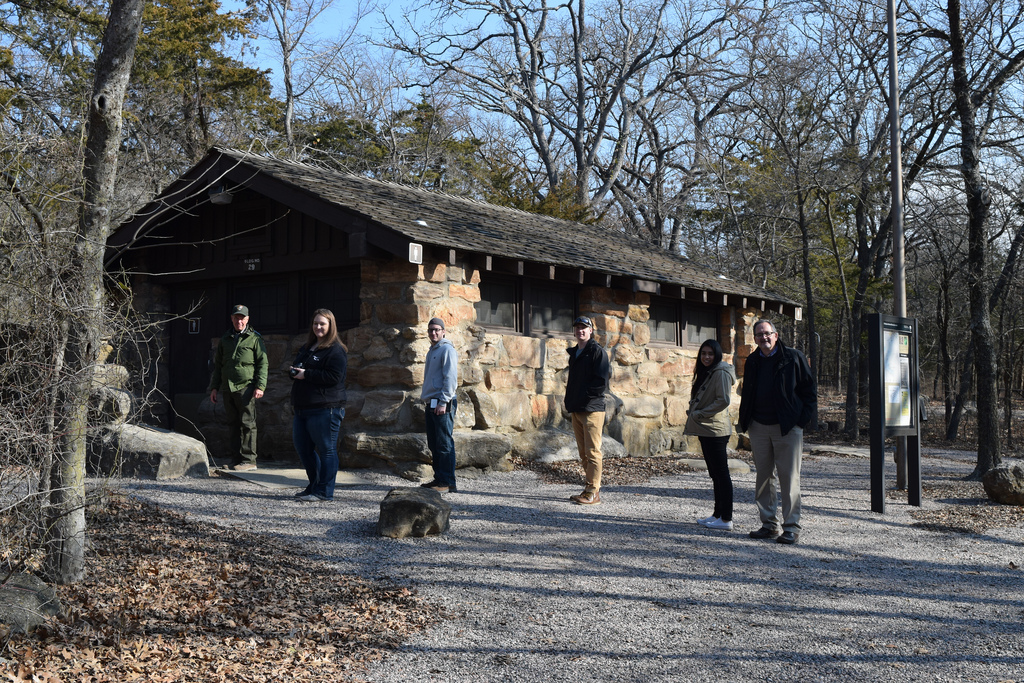 Students in the Environmental Design Capstone Course recently toured the Chickasaw National Recreation Area, the site of their spring 2016 project. The group is working with park staff Ken Ruhnke, Bill Wright, and Larry Bell to improve  amenities for visitors to this beautiful park. In addition to learning about this Oklahoma park and the national park system, the class also will come to learn more about the Chickasaw Nation that has a huge presence in this area.
The Chickasaw National Recreation Area is one of three National Park Service properties in Oklahoma. The other two places are the Oklahoma City National Memorial in downtown Oklahoma City, and the Washita Battlefield National Historic Site in Cheyenne. This project is coming just in time for the Centennial of the U.S. National Park Service.  On August 25, 2016, the National Park Service turns 100 years old. The National Historic Preservation Act is celebrating its 50th year in October.
The staff of the Sulphur park asked us to look at four sites for conceptual designs:
Panther Fall Comfort Station
Cold Springs Campground Shower Building
Lower Rock Creek Campground Shower Building
Upper Rock Creek Shower Building, Pavilion and use as a Group Area
Field work and special activities will complement classroom lectures and work sessions. Students will gather information about the park, the park system, and the Chickasaw Nation as well as learn about historic "parkitecture" and current standards for new park buildings.