Project Postcard
Community branding and lighter, quicker, cheaper placemaking in Depew, Oklahoma.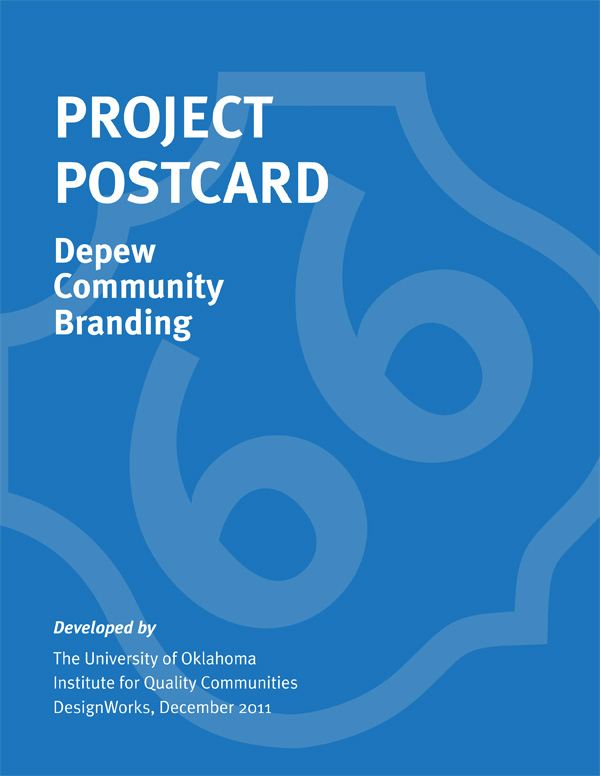 Depew, Oklahoma – Fall 2011
Depew is a town of less than five hundred residents along historic Route 66 between Oklahoma City and Tulsa. One of those residents is Megan Vandecar, who was a student at the OU Tulsa Urban Design Studio. Megan's professional project focused on bringing life back to Depew- and the IQC was invited to play a role in the process.
The five-block main street in Depew has impressive historic structures, but many were vacant and in disrepair. The two-day charrette featured meetings with residents and local officials to identify the goal of creating a 'postcard moment' that could get Route 66 travelers to stop in the town as well as provide a source of pride for the community.
A major priority was making the strategy easy to implement in such a small community, using the lighter, quicker, cheaper approach. The simple strategy was based on a pun of Depew's name. The recommended 'postcard moment' is a church pew with a vinyl wrap including the Route 66 logo, placed in the middle of the street to capture the charming main street facades in the background. Branding on the town's prominent water tower and new wayfinding along Route 66 would encourage travelers to "Have a seat in De Pew on Route 66."
Several months after the project, the town held a festival unveiling a temporary installation of the pew. At least one restaurant opened downtown as a result of the new interest in Main Street. In many ways, this project represents the successful use of tactical urbanism in community development.
Team members came from the Institute for Quality Communities, OU-Tulsa Urban Design Studio, OU School of Art & Art History, and Indian Nations Council of Governments.
Related Content