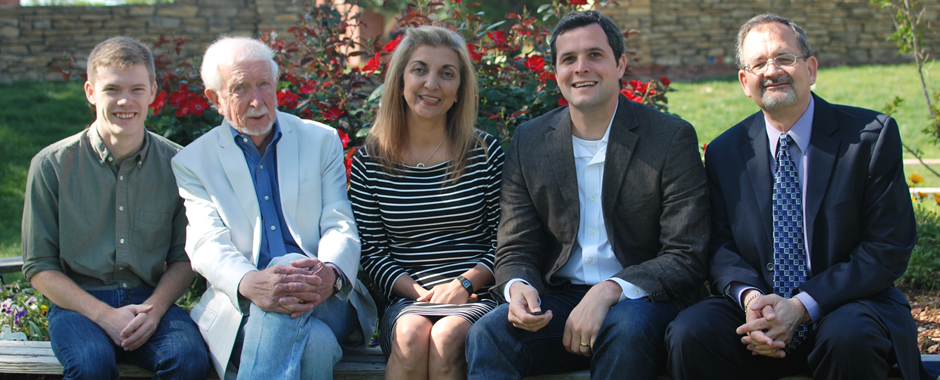 The Institute for Quality Communities Staff. From left: Shane Hampton (Fellow), Robert Goins (Professor Emeritus & Senior Fellow), Hope Mander (Associate Director), Blair Humphreys (Past Executive Director), and Ronald Frantz (Director of Small Town Studios).
Blair Humphreys is dedicated to making Oklahoma communities better places for people. Blair serves as the Executive Director of the Institute for Quality Communities and Asst Professor in the College of Architecture. He has a Master in City Planning and Urban Design degree from the Massachusetts Institute of Technology and a BBA in Entrepreneurship from the University of Oklahoma. He is a founding member of ULI Oklahoma, currently serving as the Vice-Chair for Mission Advancement of the statewide organization.

Blair also enjoys teaching and working with students. He currently teaches graduate-level Urban Design Theory, and has previously taught in the Urban Design Studio. In 2011, Blair served as the faculty advisor of OU's award winning Hines/ULI Urban Design Competition team.

Blair and wife Maggie live in Oklahoma City's Historic Gatewood Neighborhood with their son Bonn and dog Stella.

Note: Blair has transitioned to a new position and IQC is currently searching for a new Executive Director.

Umit Hope Mander is the Associate Director of the Institute for Quality Communities. She received her degree in Bachelor of Science in Environmental Design (2003) and Master of Regional and City Planning from University of Oklahoma (2006) while working for the University. Until rejoining the University of Oklahoma in 2008, she worked as a City Planner for the City of Newcastle from 2006 – 2008 where she was involved in all aspects of comprehensive land planning. This included infrastructure evaluation, zoning, improvement of public facilities, reviewing development processes, subdivision regulations, and zoning ordinances, interpretation and application of policies and procedures as well as applying for federal grants and maintaining relevant grant documentation following approval.

In her position with the IQC Hope develops and maintains relations with Oklahoma communities and identifies communities who can benefit from IQC services. Her main focus is working with small to medium size towns and cities.

Hope and her husband Clive live in Norman.



Ron Frantz
Director of Great Plains Studio
Wick Carey Professor

Ron Frantz is an Associate Professor in the Architecture Division and the the IQC Great Plains Studio His research and teaching interests include historic preservation, Main Street revitalization, neighborhood revitalization, and community-based design assistance programs.

Ron has both a Bachelor's and a Master's of Architecture from The Tulane University of Louisiana in New Orleans, Louisiana. Since 1986, he has been a licensed architect in the State of Oklahoma. Previous work experience includes overseeing the physical restoration of the territorial capital, Guthrie, Oklahoma; serving as the architect for the Oklahoma Main Street Center at the Oklahoma Department of Commerce; organizing the reconstruction efforts for Automobile Alley in Oklahoma City; and initiating revitalization efforts in The Paseo Neighborhood in Oklahoma City. He is a founding member of the DesignWorks community-based design program and the annual Statewide Preservation Conference.

Shawn Schaefer is Director of the University of Oklahoma Urban Design Studio and a faculty member of the College of Architecture. Founded in 1988, the Urban Design Studio is an outreach program from the College of Architecture with a three-part mission to train urban design professionals in Architecture, Community Planning and Urban Studies, to further the understanding of the city through research and creative activity and to conduct community service projects benefiting Tulsa and Northeast Oklahoma. Professor Schaefer holds professional degrees in Architecture and Urban Design. He is licensed to practice architecture and interior design in the State of Oklahoma and is board certified by the National Council of Architectural Registration Boards (NCARB) and the American Institute of City Planners (AICP). He is also a Leadership in Energy and Environmental Design (LEED) accredited professional and an FAA certified, instrument-rated pilot. Mr. Schaefer is founding Principal of PLACES LLC, Oklahoma's first urban design consulting practice.

For more information on the OU Urban Design Studio, click here.
Shane Hampton is a Fellow at the Institute for Quality Communities focusing on planning and placemaking projects in the Oklahoma City area. Shane Hampton graduated from the Master of Regional and City Planning Program at OU in 2013. His thesis explored how geographic information systems can be used to measure the quality of urban form and the success of interventions. Shane has been with the IQC since 2011 when he began working as a graduate assistant while pursuing his Masters degree.

Shane is interested in how urban planning efforts, from both professional planners and active citizens, can help Oklahoma towns and neighborhoods reflect the character of the state and become better places to live. His favorite topics in the field of planning include street design, placemaking, tactical urbanism, lighter-quicker-cheaper strategies, and mid-century urban form.

Bob Goins
Professor Emeritus & Senior Fellow

Robert Goins is Professor Emeritus in the College of Architecture and also serves as Senior Fellow in the Institute for Quality Communities. He holds a Master's Degree in Regional & City Planning and a Bachelor's in Architecture, both from the University of Oklahoma. He is a member of the American Planning Association and the American Institute of Certified Planners. During his career, he has served on a wide-range of University committees as well as public service organizations for the City of Norman.

Robert's recent teaching focus has been in the areas of urban history and design of cities. His professional practice has concentrated on residential subdivision planning and parks & recreational design. As part of the State's Centennial celebration, he designed and oversaw the development of Legacy Trail for the City of Norman. In addition to his lifelong love of cities, he has developed a passion for the history of Oklahoma. He co-authored the fourth addition of the Historical Atlas of Oklahoma which received the 2007 Oklahoma Book Award for best non-fiction.

Robert and his wife Juanitta live on a quiet street near the University.