IQC students delivered a final presentation to over 100 Shawnee citizens and community leaders on Monday evening. At the end of the presentation, the students announced that immediate progress can be made with a pedestrian wayfinding sign that has been donated to Shawnee by Edmond's Pelco Products, Inc. Pelco is the largest traffic signal hardware manufacturer in the nation, selling products in all 50 states and multiple international markets. The sign, shown in a rendering below, will be installed around February 2013.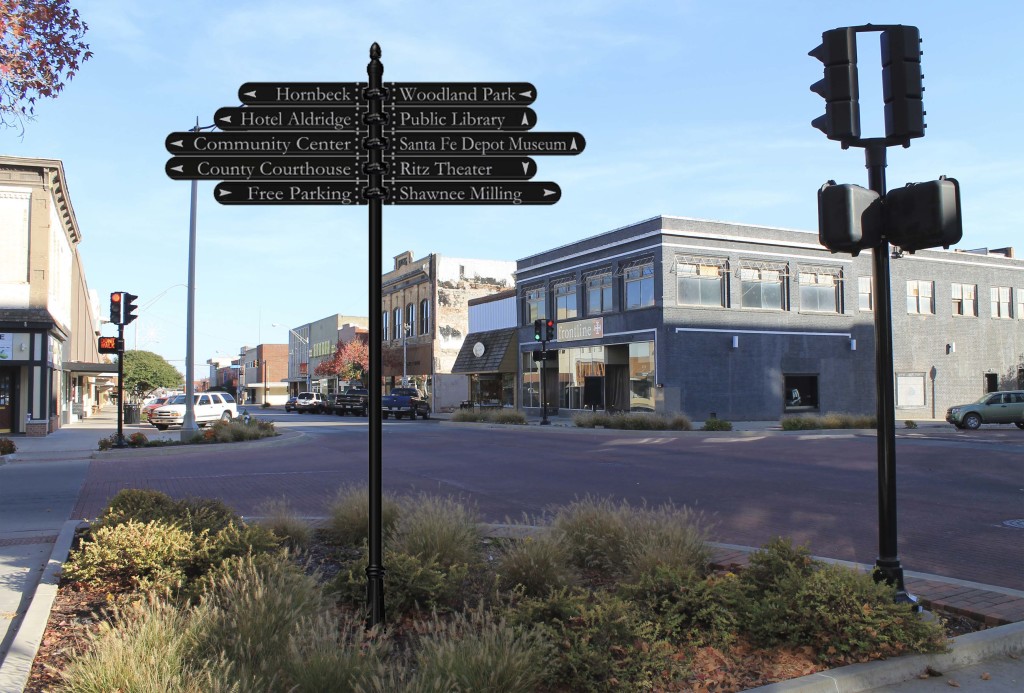 Over the summer, the Shawnee Chamber of Commerce contacted the Institute for Quality Communities to set up a collaboration for the upcoming fall semester. The IQC worked with students from the OU College of Architecture's Regional & City Planning and Landscape Architecture programs throughout the semester. The students have prepared a plan to revitalize downtown Shawnee. The city has an excellent inventory of historic structures and the momentum to significantly improve downtown in the near future.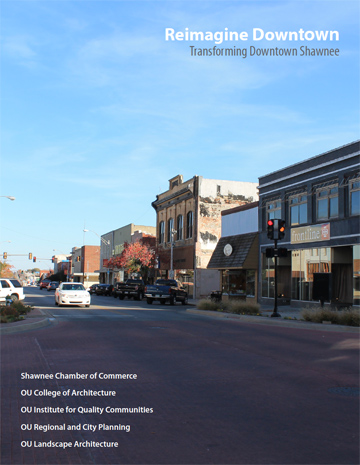 The presentation covered the five major recommendations offered by the plan:
Develop an organizational structure to guide progress downtown.
Pursue and provide guidance for financing options.
Attract more people to downtown from Shawnee and the region.
Enliven public spaces, including streets, parks, and plazas.
Improve access and connectivity to downtown from key gateways.
The final plan is organized in a stepping stone format to encourage implementation of "lighter, quicker, cheaper" strategies to make visible progress quickly. Additionally, the plan includes "Success Stories" that offer examples of similar communities in Oklahoma or around the country that have been successful with innovative strategies.
The appendices of the plan show important parts of the students' analysis process, including input from the public and a parking study.
The full plan will be available in PDF format at iqc.ou.edu after a short revision period based on comments from the Shawnee steering committee.
Local media in Shawnee have also covered this story:
OU group gives final presentation, suggestions. By Carmen Bourlon, Shawnee News-Star.
Five Steps to a Better Downtown. By the Countywide & Sun.