The Atlantic Cities recently shared 2013 highlights from cities around the country. Here is a review of some of the best things that happened in Oklahoma's towns in 2013, from big time music festivals to smartphone apps.
Guthrie hosted 40,000 visitors for a major weekend festival- quadrupling the town's population.

Guthrie filled the large Cottonwood Flats floodplain with 40,000 visitors to the weekend-long Gentlemen of the Road festival featuring Mumford & Sons and other major performers. Most notably, event planners in Guthrie managed to ensure that the festival was carefully linked to the town's lively downtown area so that local retailers, restaurants, and bars could benefit from the influx of tourists. A study by OU Regional & City Planning Students showed that more than 1/3 of the visitors were from out of state, no doubt opening lots of new eyes to Guthrie, one of the most interesting places in Oklahoma.
The concert breathed new life into Guthrie and opened up the potential for the town to continue to host very large events in Cottonwood Flats that have the benefit of being within walking distance of a great downtown.
Norman advanced a community dialogue about its future.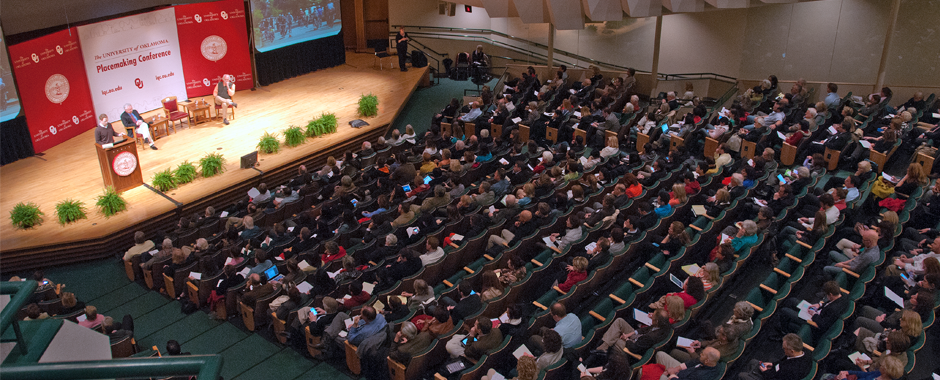 The story in Norman this year has been an open community discussion about the way forward for the city. In April, we hosted the Placemaking Conference at OU, bringing some of the world's leading voices on how to build quality communities. Throughout the year, themes from the conference kept coming up in Norman. Norman's citizens and city leaders had a very detailed and intensive conversation about important considerations for the reconstruction of Lindsey Street, Norman's major connection between I-35 and the OU campus. Norman also formed a committee of diverse stakeholders to lead a discussion about how to balance the demand for high-density development with neighborhood concerns in the core of the city. In 2013, Norman elevated its sensitivity to the incremental decisions that shape the community.
Tulsa voters passed the Improve Our Tulsa package and Oklahoma's first Bus Rapid Transit.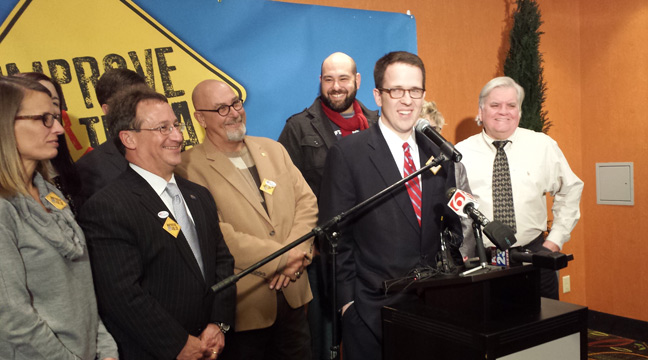 Photo by News on 6
Tulsa has had a history of failing to pass special improvement packages over the last couple of decades, but this year voters overwhelmingly supported nearly $1 billion of capital improvements in the Improve Our Tulsa package. The package includes street repairs with $50 million for bicycle and pedestrian enhancements. Significantly, the package will include Oklahoma's first example of a Bus Rapid Transit system along the important Peoria corridor. The system will place 15% of Tulsa's residents within 1/2 mile of a reliable and frequent public transit option.
The vote also signals a new sense of optimism is building in Tulsa- Downtown is seeing a wave of hotel construction and city leaders are rallying for another attempt to build infrastructure to keep the Arkansas River consistently full of water.
Oklahoma City came closer to offering a convenient car-free lifestyle.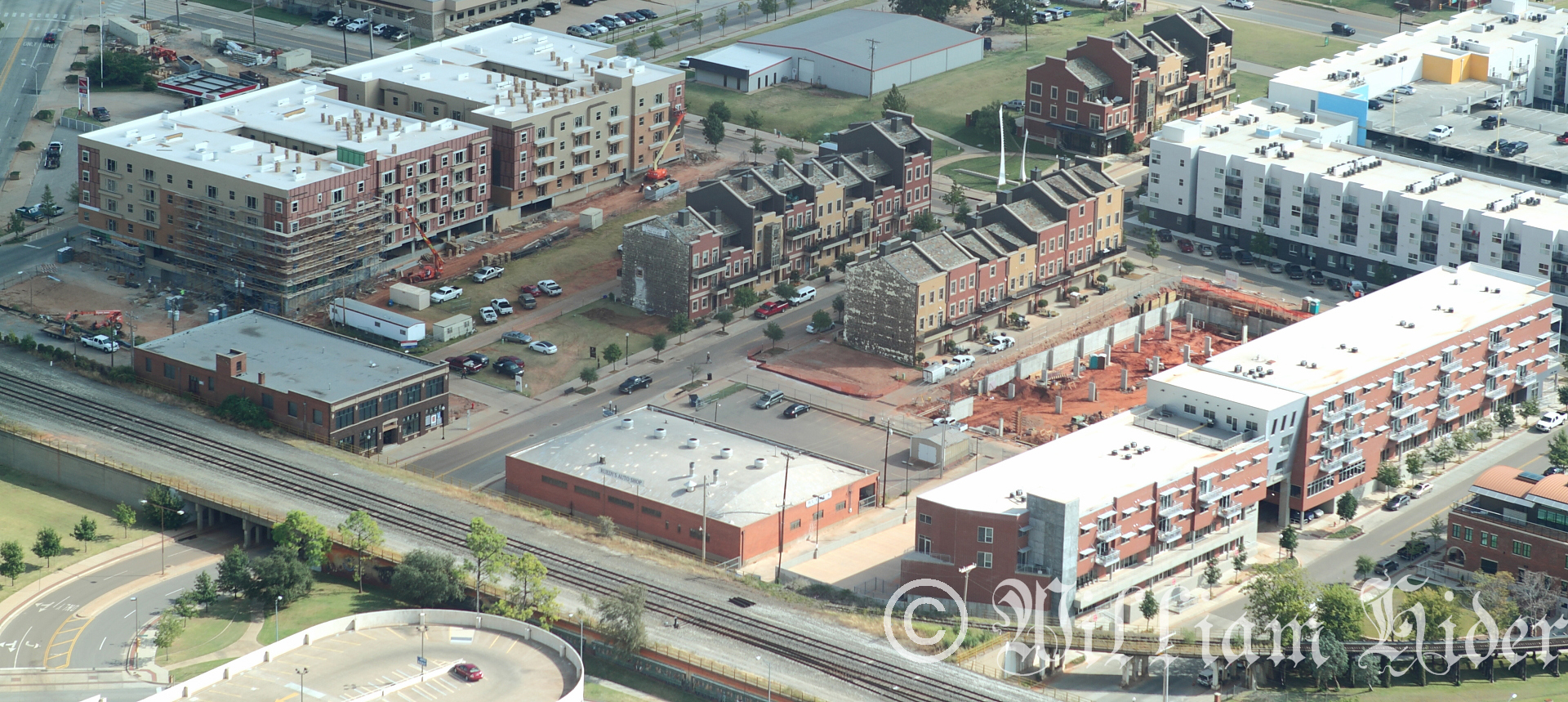 Photo by William Hider.
It's no secret: Oklahoma City is one of the worst major cities in the nation for people who want to live car-free or car-light. But in 2013 the City showed its commitment to improving the car-free alternative, while the private sector also pitched in to make car-free living more accessible. When $9 million wasn't enough to complete the 70 miles of new sidewalks promised by MAPS 3, the Mayor and Council found a way to add another $9 million to complete more sidewalks. Cyclists noticed new sharrows and signage throughout the city, as well as the first buffered bike lane. The City worked with the IQC to create an extremely walkable new design for the Western Avenue district, showing a real commitment to providing walkable nodes outside of the downtown area. An extensive study of the city's transit system resulted in a rework that will consolidate some lines to increase service frequency throughout the system in 2014.
But it wasn't just the public sector. Thousands of new apartments continue to come online in the downtown area, putting more residents in walking distance to jobs and amenities. Car sharing service Timecar added locations in Deep Deuce and Midtown, allowing residents of those increasingly dense urban neighborhoods to conveniently rent a car by the hour for short trips. Uber also came to OKC, a high-tech way for people to find a ride using a smartphone app. Both services provide extra options for households seeking to reduce or eliminate the number of cars they own.
Stillwater launched an app to generate data about cycling in the city.
Stillwater's new App is called Cycle Stillwater. The app allows cyclists to record their bike trips and share the data with the city's transportation officials. Problems like potholes or debris in a bike lane can also be reported through the app. Data about where cyclists are moving through Stillwater is used to make decisions about investments in cycling infrastructure.
Learn more at this article or by visiting the app's page on the iTunes Store.
Carlton Landing became the first New Urbanist community to incorporate as a municipality.
Carlton Landing, under development on Lake Eufaula in eastern Oklahoma, received municipality status and became the newest town in Oklahoma. The town is designed by world-famous firm Duany Plater-Zyberk and will eventually feature about 3,000 homes and apartments arranged as a walkable village with a town center and abundant natural amenities.
Edmond opened its first bike lane.
It may not seem like much, but Edmond's first bike lane near the University of Central Oklahoma campus is a step towards a citywide bicycle plan that includes 140 miles of bike infrastructure. With a growing university population and densifying downtown, central Edmond is a promising environment for a bike culture.
Sulphur's beautiful Artesian Hotel and Casino opened in the historic downtown.

The casino industry is transforming small towns across the state, but a new Chickasaw Nation resort in Sulphur may be one of the best-positioned to provide a boost to Sulphur's historic downtown. The new building is inspired by Sulphur's 1906 Artesian Hotel that burned down in 1965. The unique downtown of Sulphur is just across the street from the outdoor activities of the Chickasaw National Recreation Area and also near the new Chickasaw Cultural Center. These improvements by the Chickasaw Nation are making downtown Sulphur an interesting regional destination.