OU Institute for Quality Communities
The mission of The University of Oklahoma is to provide the best possible educational experience for our students through excellence in teaching, research and creative activity, and service to the state and society.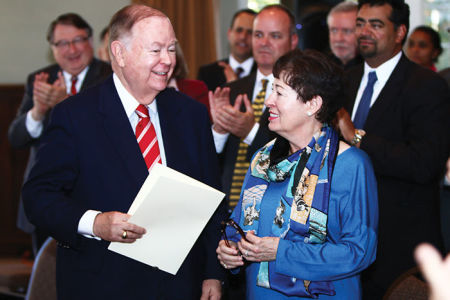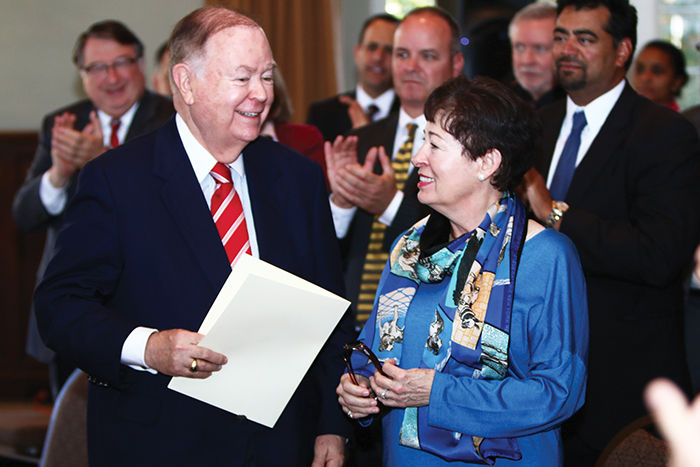 Photo Courtesy
OU Daily
OU President David L. Boren and First Lady Molly Shi Boren established the Institute for Quality Communities in 2008 to focus on the quality of community in the built environment. President Boren, who grew up in Seminole, Oklahoma, and Mrs. Boren, who was born in Ada, Oklahoma, have a deep commitment to the people and places that shape Oklahoma communities.
As President Boren expressed in his book A Letter to America, "Every decision should be made with the goal of increasing community." To pursue this goal, we train students and connect citizens, professionals, and civic leaders with knowledge that builds on tradition to reshape towns and cities for the future.
Shane Hampton, AICP, CNU-A
Executive Director
Shane Hampton joined the IQC in 2011 and has served as the director since 2015. He leads a range of IQC projects and courses focusing on urban design, district planning, placemaking, tactical urbanism, and transportation in collaboration with partners in the College of Architecture and in communities throughout Oklahoma. He is a member of the Congress for New Urbanism, Urban Land Institute, Placemaking Leadership Council, and American Planning Association. He holds a master's degree in Regional & City Planning and a bachelor's degree in Public Affairs and Administration from the University of Oklahoma.
Hope Mander
Associate Director
Hope Mander received a Bachelor of Environmental Design degree and Master of Regional and City Planning degree from the OU College of Architecture. Before returning to the University of Oklahoma to serve as IQC Associate Director in 2008, Hope worked as the municipal planner of Newcastle, Oklahoma, gaining professional experience in infrastructure evaluation, zoning, development process review, subdivision regulations and zoning ordinances, as well as federal grant applications.
Ron Frantz
Director of Great Plains Studio, Wick Cary Professor
Ron Frantz has an extended background in revitalization efforts throughout Oklahoma. Ron led preservation efforts around the state as the architect at the Oklahoma Main Street Center, oversaw the physical restoration of Guthrie and the rebuilding of Automobile Alley in Oklahoma City following the 1995 bombing, and initiated revitalization efforts in Oklahoma City's Paseo neighborhood. He is a founding member of the DesignWorks community-based design program and the annual Statewide Preservation Conference. Ron has bachelor's and master's degrees in architecture from Tulane University.
Shawn Michael Schaefer
Director, OU Urban Design Studio (Tulsa)
Shawn Schaefer oversees the OU-Tulsa Urban Design Studio, with a three-part mission to train urban design professionals in Architecture, Community Planning and Urban Studies, to further the understanding of the city through research and creative activity, and to conduct community service projects benefiting Tulsa and Northeast Oklahoma. Shawn holds degrees in architecture and urban design and professional certifications including NCARB, AICP, and LEED-AP. Shawn is also an FAA-certified, instrument-rated pilot.
Rachel Ware
Graduate Assistant
Rachel holds a Bachelors of Science degree from Oklahoma State University and is currently in the Masters of Landscape Architecture program at the University of Oklahoma. Her graduate research project is focused on green stormwater infrastructure strategies to improve watershed health in Oklahoma. Rachel enjoys having the opportunity to work directly with Oklahoma communities on a variety of projects.
IQC Students & Alumni
The IQC works with talented students, interns, and graduate assistants throughout each academic year. Here are current students who are helping the IQC and alumni who have moved on to promising careers and further education.
Graduate Assistants
Undergraduate Assistants
Graduate Assistants
Undergraduate Assistants
Graduate Assistants
Classroom
Graduate & Undergraduate Assistants
Classroom
Virginia Addleman, B.S. Environmental Design '14
Grant Bankson, B. Architecture '15
Amber Conwell, B. Architecture '14
Connor Cox, B. Public Administration '15
Layne Ferguson, B. Public Administration '15
Barbara Luiza Franco, B. Architecture
Luan Vinicius Juliao das Virgens, B. Architecture
Kyler Hallmark, B.S. Environmental Design
Ying Li, M. Regional & City Planning '14
Aaron Lout, B. Architecture '15
Zac Miller, M. Architecture
Scott Mitchell, B. Film & Video Studies '14
Michelle Oliphant, B. Architecture '15
Justin Phillips, B.S. Environmental Design
Amy Shell, B. Architecture '14
Gabe Sevigny, B. Environmental Design
Garrett Stouffe, B. Architecture '14
Caty Townsend, B. Architecture '15
Graduate & Undergraduate Assistants
Classroom
Matthew Crownover, M. Regional & City Planning/Landscape Architecture
Gabriela Cantu
Justin DeBruin, M. Regional & City Planning '13
Chet Dodrill, M. Regional & City Planning '13
Eric Dryer, M. Regional & City Planning '13
Tyler Ediger, B. Construction Science '12
Florence Fleischer-Djoleto, M. Regional & City Planning '12
Nathan Foster
Seth Gebhart, B. Achitecture '15
Justin Henry, M. Regional & City Planning '14
Monique Hawkins, M. Regional & City Planning '12
Peter Mall, B. Architecture '13
Leslie Novotny, M. Landscape Architecture '13
Daniel Ofsthun, M. Regional & City Planning '13
Portia Owens, M. Regional & City Planning '13
Marisa Puente, B. Architecture '13
Tori Raines, M. Regional & City Planning '13
Brian Schroeder, M. Regional & City Planning/Landscape Architecture '15
Marina Soares, B. Architecture '13
Jonathan Stone, M. Regional & City Planning '13
Alison Thompson, B. Architecture '3
Elena Troya, M. Regional & City Planning '15
Megan Underwood
Laney Vela, B. Architecture '15
Jixiang Wang, M. Landscape Architecture '13
Kun Zhao, M. Regional & City Planning '13
Graduate Assistants
Classroom
Dustin Blalock, B. Architecture '14
David Clayton, B. Architecture '13
Hok-Yin Chan, B. Architecture '13
Sam Day, B. Architecture '13
Grant Evert, M. Architecture
Kevin Ku, B. Architecture '13
Peter Mall, B. Architecture '13
Mthabisi Masilela, OU Urban Design Studio '12
Ty McCarthy, M. Regional & City Planning '12
Khoi Nguyen, B. Architecture '13
Samantha Norman, B. Interior Design '12
Morgan Pinch, B. Architecture '13
Hunter Read, B. Architecture '13
Jasmine Rikin, B. Architecture '13
Herve Sivuilu, B. Architecture '13
Meagan Vandecar, OU Urban Design Studio '12
Vera Voropaeva, B. Architecture '12
Madeleine Wiens, B. Geography & Environmental Sustainability '13
Adelle York, B. Architecture '12
Shelly Zhu, B. Architecture/Interior Design '12