The Institute for Quality Communities, part of the OU College of Architecture, traveled to the United Kingdom to visit the Prince's Foundation for Building Community» to learn from their highly successful summer school program. Here IQC Executive Director Blair Humphreys and IQC Fellow Shane Hampton share their experiences from the program.
We are inspired by the work of the Prince's Foundation, which advocates around the world for sustainable urban design based on local building crafts and traditions.
In April, Hank Dittmar, who serves as the Special Adviser to HRH the Prince of Wales on Global Urbanisation,
came to Norman»
to deliver the keynote presentation at the
IQC Placemaking Conference»
. We are inspired by the work of the Prince's Foundation, which advocates around the world for sustainable urban design based on local building crafts and traditions.
Building Skill in Summer» is a three-week program that took place this year in London and Scotland. Participants develop an in-depth knowledge of traditional building techniques and how they are relevant to the 21st Century. The program ends in a design workshop which results in an actual structure to be constructed later in the summer and fall over a 10-week period by the Foundation's building craft apprentices.
Here you will find summaries of each of our three weeks at summer school, broken down by week. The story is told in a photo slideshow or in full text below.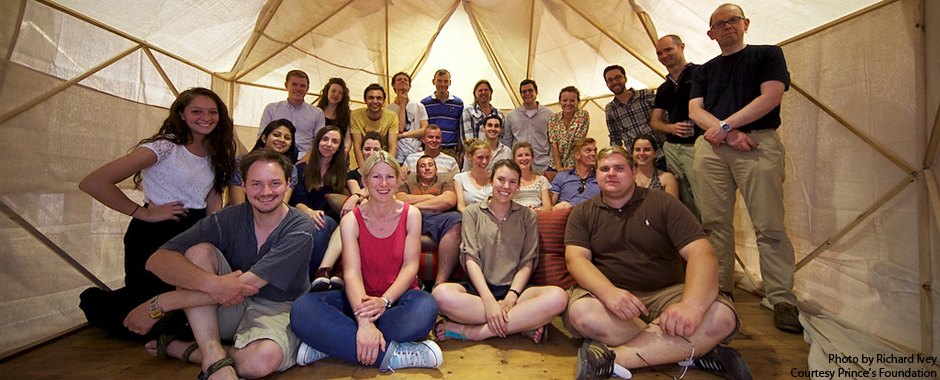 Week 1
Week 1 took place at the Prince's Foundation office in the Shoreditch neighborhood of London's East End. Shoreditch is an old warehouse district turned into a vibrant creative community. Narrow streets, interesting shops and restaurants, and lots of great street art defined the area.
On the first day, we got to know our fellow summer school participants, consisting of architects, planners, and craftspeople from the UK, US, Australia, Romania, France, and India. We also got to know some of the friendly staffers at the Prince's Foundation. When Hank Dittmar visited in April, we learned he had graduated from Oklahoma City's Northwest Classen High School and still has ties to Oklahoma- We were happy to meet Michael Romero, another talented Okie serving as the Director of Projects at the Prince's Foundation. Michael grew up just a few blocks from our offices on the OU campus in Norman.
We jumped into a week of lessons including geometry, life drawing, simple structures, perspective drawing, and classical architecture. Geometry lessons with architect Jon Allen» focused on basic shapes, their structural qualities, and the Golden Ratio. We created the five platonic solids with careful measurements on paper.
Life drawing with instructor Henry Gibbons Guy» helped us understand how to include light, shadow, and perspective in our drawings. Most of all, Henry's great drawing exercises helped everyone in the class feel more creative energy.
A highlight of the simple structures course with Jonathan Horning» was working as a team to build a life-size simple shelter in the Prince's Foundation studio. We also built miniature structures and platonic solids using colored sticks and glue.
For perspective drawing, we got out on the streets of Hoxton Square and Spitalfields to practice the techniques in our sketchbooks with the help of enthusiastic and creative instructor Lucien Steil». During our walks, we searched for Doric, Ionic, and Corinthian columns and other classical architecture elements that we had learned from classical architect George Saumarez Smith.
It was obvious by the end of the week that the summer school is carefully designed to give participants a meaningful and enriching experience. All the lessons came together to prepare us for the next two weeks of the program.
Following Week 1, we caught a train north to Edinburgh, Scotland for the weekend. Edinburgh was a beautiful city, and we learned about how it has focused on historic preservation to maintain its unique character.