60 years has made a big difference in the urban form of American cities. The most rapid change occurred during the mid-century urban renewal period that cleared large tracts of urban land for new highways, parking, and public facilities or housing projects. Fine-grained networks of streets and buildings on small lots were replaced with superblocks and megastructures. While the period did make way for impressive new projects in many cities, many of the scars are still unhealed.
We put together these sliders to show how cities have changed over half a century.
How to Use
Click and drag the slider as shown in the image below to compare images.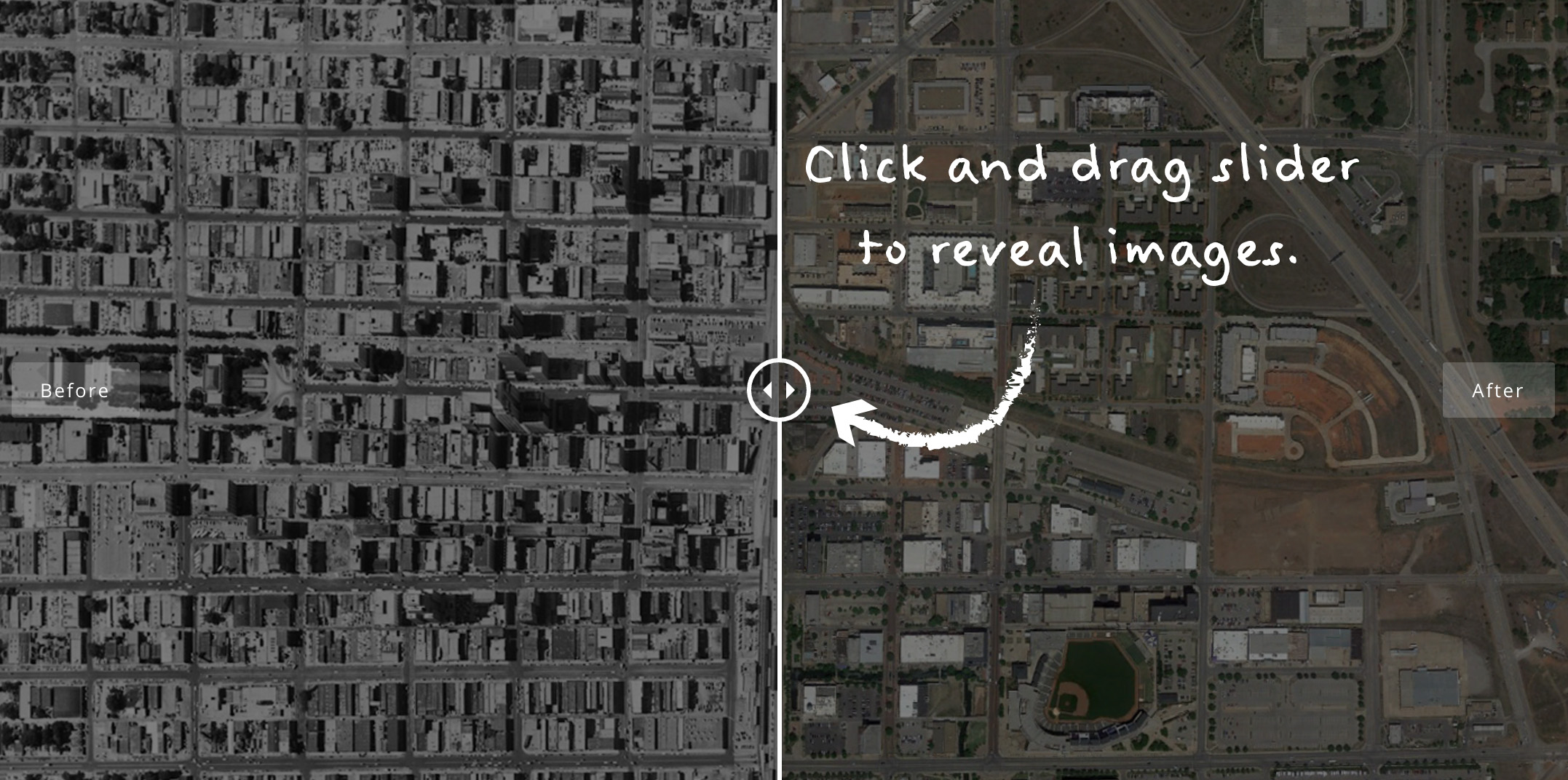 Downtown Oklahoma City, 1954 to 2014
This pair of aerial images highlights the extensive demolition of the urban renewal period in Oklahoma City. Block after block of the orderly 1800s street grid and fine-grained commercial core are replaced with superblocks, large public projects, parking facilities, and freeways. While the consequences of urban renewal were severe, the area is finally coming back with anchors like the Myriad Gardens, Devon Tower, and Chesapeake Arena spurring a new wave of public and private development.
Dallas, 1953 to 2013
Like the other cities in the region, Dallas is transformed by new highways, parking lots, and larger buildings taking the place of smaller-scale blocks. Patrick Kennedy, who writes the Street Smart Blog at D Magazine, has written extensively about this area as part of his work advocating for a teardown of I-345 which cuts between Downtown Dallas and Deep Ellum.
[Update: D Magazine has provided additional comments on this image.]
Fort Worth, 1952 to 2013
Fort Worth's most severe change is the long stretch of commercial blocks replaced by the city's Convention Center, near the center of the image. While many other cities replaced rail rights-of-way with highways, many of Fort Worth's railyards remain on the east edge of downtown and highways are built over formerly residential neighborhoods.
Austin, 1953 to 2013
In Austin, it's easy to spot the rapid growth the city is known for today, as the downtown and state capitol areas expand into formerly residential areas. I-35 slices along the right-of-way of a former divided boulevard. Advocates in Austin are now promoting an effort to reconnect Austin neighborhoods with more street connections across I-35.
San Antonio, 1953 to 2014
San Antonio is probably the best-preserved urban core in the region, but major new highways and developments are visible at the edges of downtown.